Are you Unemployed and looking for a way to get a free government phone? If yes, then you have stumbled upon the right article.
A few months back, I got laid off from my workplace, and to make the situation worse, I broke my phone, but I had no money to fix it and was desperately looking for a way to get a new phone to search for new jobs.
One of my close friends introduced me to the federal government Lifeline assistance program and how to apply for free phone and phone services through a Lifeline service provider.
With this article, I will provide all the information you need on How to get a free phone from the government, its eligibility criteria, the documents required, and the application process.
So without further ado, let's get started.
Free Government Phone for Unemployed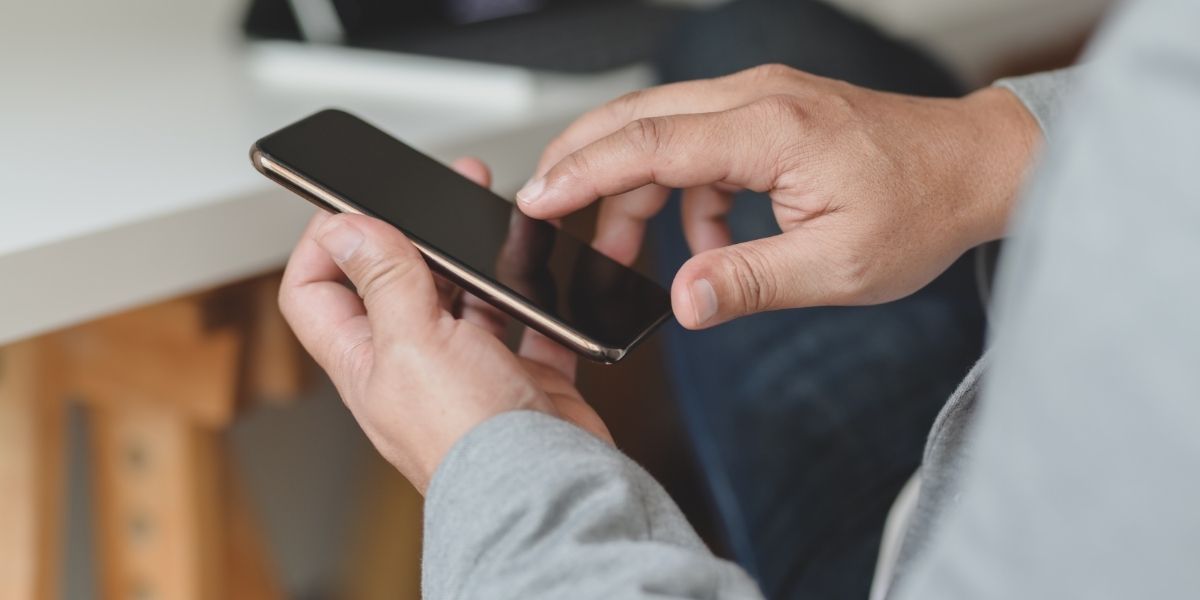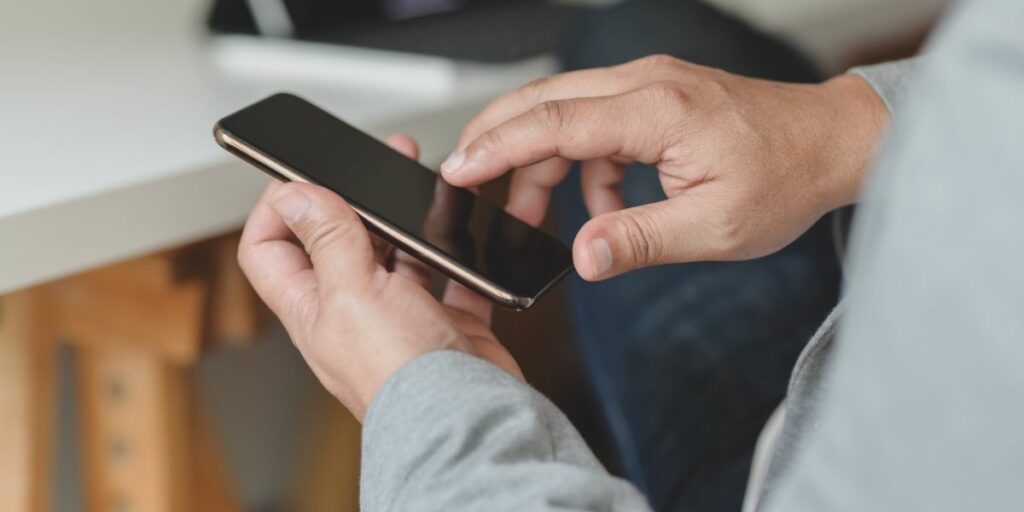 In today's fast-paced society, a cell phone is an absolute must. Since its inception, the Lifeline Assistance and Affordable Connectivity Program have provided low-income families and individuals with grants and perks that allow them to afford telephone service.
The impoverished can now reap the benefits of being connected to the rest of society because of the widespread availability of cell phone services, and big names like Safelink Wireless, QLink Wireless, and Assurance Wireless are now part of the expanded program. Low-income households can benefit from the free cell phone program by receiving discounted services, such as waiving their installation fees and a monthly discount.
Free Government Phone for laid off
Getting a government-issued phone and the associated free monthly subscription is a breeze. Free government phones can be obtained from various cellular service providers in any major city.
Any cell phone provider part of the Lifeline Assistance program will accept your online application if you are unemployed and need a phone.
In most cases, eligibility is determined by participation in a government assistance program like SNAP, WIC, SSI, or Medicaid. Nonetheless, you can apply for a phone if you've recently been laid off and your household income is at or below the U.S. Government Poverty Guidelines.
Free Government Phone for Unemployed: How to Find a Government-Sponsored Cell Phone Service
Hundreds of new cellular service providers in these assistance programs have recently sprung up in the United States. Different companies have slightly different plans; some even charge a nominal price for their phones and services.
Safelink, Qlink, TruConnect, Budget Mobile, and Assurance Wireless are just a few of the many options for cellular service, and the good news is that these carriers now stock Android and other smartphone models. To find a lifeline and ACP government service provider and recieve a free phone you can visit ""https://www.lifelinesupport.org/companies-near-me/
These free government phones for laid-off can help you in your job search, note-taking, money transfer, and even stress release through gaming.
Eligibility for Free Government Phone for Unemployed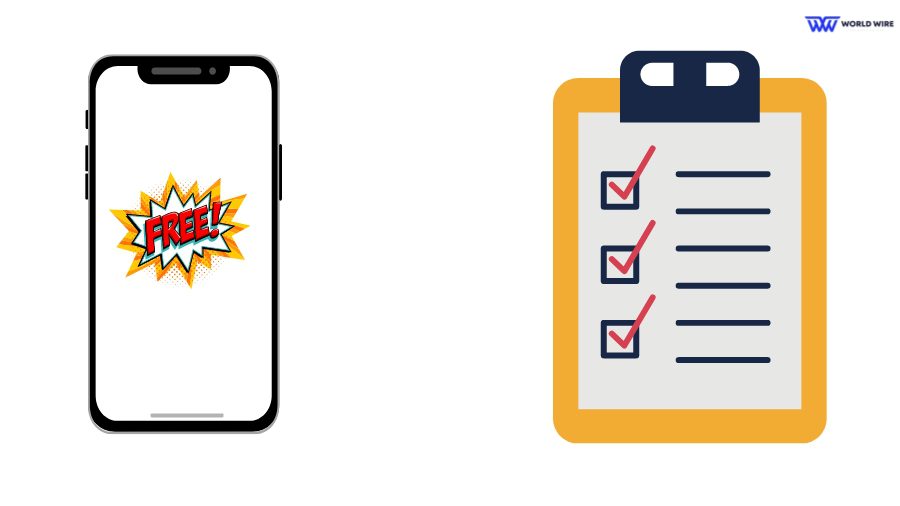 There are 2 ways through which a person can be found eligible for the Lifeline Assitance program as this government program is one of the best and oldest programs, and most of the providers are participants of this program.
Income
To be eligible for Lifeline, your annual income must be below 135% of the federal poverty guidelines.
Program Participation
As an unemployed you will qualify on an income basis; however, if you don't, you can still qualify if you participate in any government programs mentioned below.
FPHA (Federal Public Housing Assistance),
Veteran's Pension or Survivor's
Supplemental Security Income (SSI)
Tribal TANF
Required documents for a free government phone for laid-off application –
Statement from the Department of Social Services
Statement from Veteran's Administration
Social Security Benefits
Proof of filing a recent tax return with the federal government
A letter from Unemployment/Workman's Compensation
A payroll statement or current check stubs from your job
Government Approval letter
Benefit Award letter
Statement of benefits
Benefit verification letter
U.S driving License or passport
Birth Certificate
Steps to Apply for Free Government Phone for Unemployed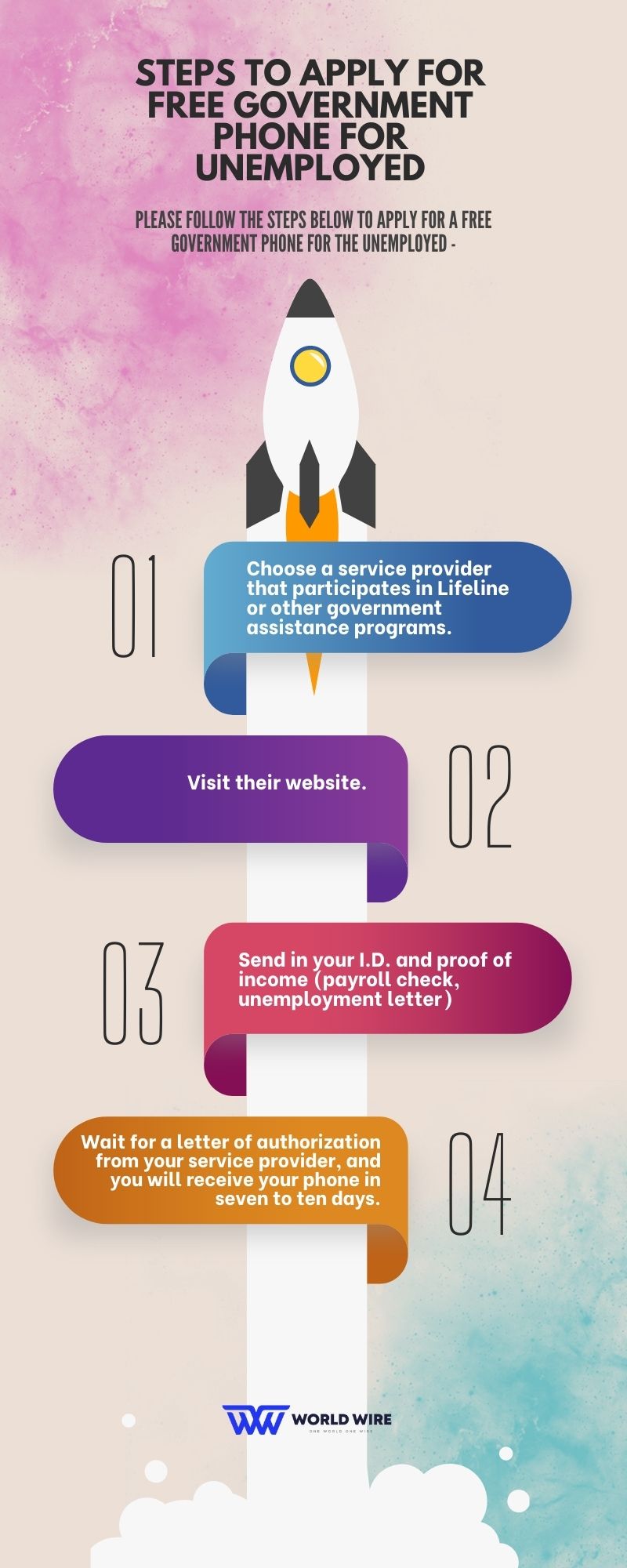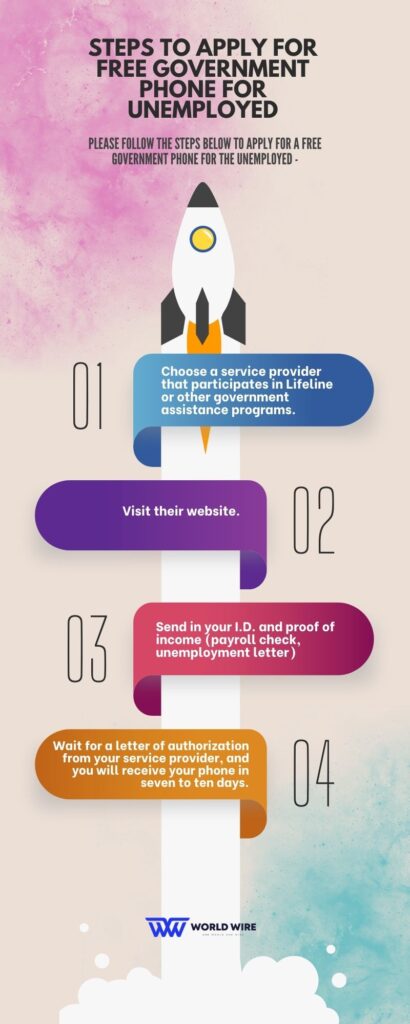 Please follow the steps below to apply for a free government phone for the unemployed –
Choose a service provider that participates in Lifeline or other government assistance programs. You can find the Lifeline and ACP provider visit "https://www.lifelinesupport.org/companies-near-me/"
Visit their website or contact them about the application process
Complete the Application process as per the provider's instructions
Attach your I.D. and proof of income (payroll check, unemployment letter)
Wait for a letter of authorization from your service provider, and you will receive your phone in seven to ten days.
How to receive a Free Government Phone for the Unemployed if your new phone is broken?
A new phone can be obtained for a nominal fee if your current device is lost or damaged in the future. However, there is no assurance that you will get the same phone model. Contact your service provider and ask if they can replace your broken model for free.
To learn about the replacement policy of all government service providers, read our guide on "All Government Providers Replacement Policy." if you are looking for specific providers' policies, please look below to find your service provider.
How to increase Free Government Phone for Unemployed minute allowance?
The minute allowance varies widely across service providers. Most service providers now offer the option to buy extra minutes online. Phone cards are also sold at convenience stores, grocery stores, pharmacies, etc. Therefore, to add more minutes, visit their official website and follow the instructions.
Frequently Asked Questions
Where do I go if I have a problem with my provider?
Remember that the service provider is not shelling out thousands of dollars to ensure your satisfaction because this is a free phone and service, and you might need to find support elsewhere. The information you require is usually readily available; however, contact the USAC if your service provider doesn't address an issue.
Which service provider is best to get a free government phone for the unemployed?
These are some of the top phone providers –
Safelink Wireless
Access Wireless
Assurance Wireless
Reachout Wireless
Budget Wireless
Is it required that you show proof of eligibility?
You need to provide eligibility documents to get benefits from these free government assistance programs.
Can I get a free 5G Government phone?
Yes. Some network service providers, such as Cintex Wireless, have offered free 5G Government phones.
Can I add additional minutes to free Government phones?
Yes, you can add additional minutes to your free Government phone at a very small cost.
Conclusion
There you have it – a detailed guide covering information about a free government phone for laid-off employees.
Getting a free government phone for the unemployed is easy if you check in all the eligibility squares. You only need to choose a service provider that fits all your needs and provides the services you need most. Just follow the steps above to find and fill out the application with your service provider for a free phone.

Subscribe to Email Updates :