A Girl started rape talk on Snapchat: New information is coming out in the boys' locker room case. Delhi Police found out in the investigation that the chat shared on social media was a screenshot of Snapchat that was about gang rape. 
Also, this chat was done with a girl's account. According to them, that girl is a minor. Police have informed that the chat was not part of #BoisLockerRoom but was a conversation between two people on Snapchat whose screenshot had reached the Boys Locker Room. 
In this, gang rape was talked about with a fake profile named 'Siddharth.'
According to the police, the two users talking on Snapchat are minors and have no connection with the boys' locker room. 
A Girl started rape talk on Snapchat. Bois Locker Room on Insta had no link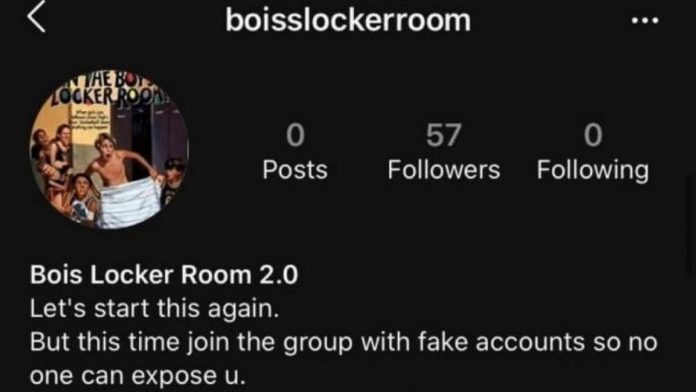 The electronic equipment used in this case has been confiscated and sent for forensic investigation. DCP Cyber ​​Cell Baresh Roy said, "On Snapchat, a girl created a fake account named 'Siddharth.' The girl wanted to find out the behavior and character of a boy through gang rape. 
This was a conversation between two people, and the intention of this girl was not to cheat, so according to the law, no offense is also made against her. "
A few days ago, #BoisLockerRoom and #GirlsLockerRoom were trending hashtags on social media. These two are chat groups that were created on the photo-sharing social networking site Instagram. 
On May 4 and 5, screenshots of these started trending on Twitter. By sharing pictures of minor girls in the boys' locker room, lewd comments were made on them. 
The screenshots of chats related to rape and gang rape were also viral. At the same time, in the girls' locker room, there were lewd comments about boys, and some photos were also shared.
What happened on Snapchat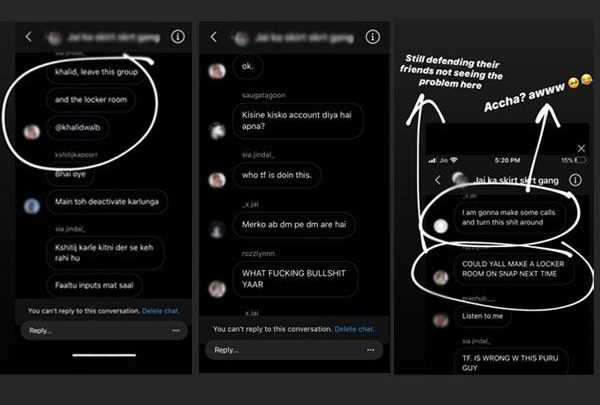 On Snapchat, the girl created a fake profile named 'Siddharth.' With this, she used to talk to a boy. 
The girl messaged a boy while planning a girl's rape from her fake profile. In this, she was talking about her own rape.
It was written in the chat, "We can rape her easily … I can also call some more people for gang rape."
In response, the other boy refused to write 'No' and did not talk to Siddharth any further. 
This chat was happening only between these two people. However, it is also being ascertained that there was no further talk or that the conversation and the chats were deleted.
According to the Delhi Police, the girl wanted to know about the boy's reaction, his thoughts, and his character about the girls.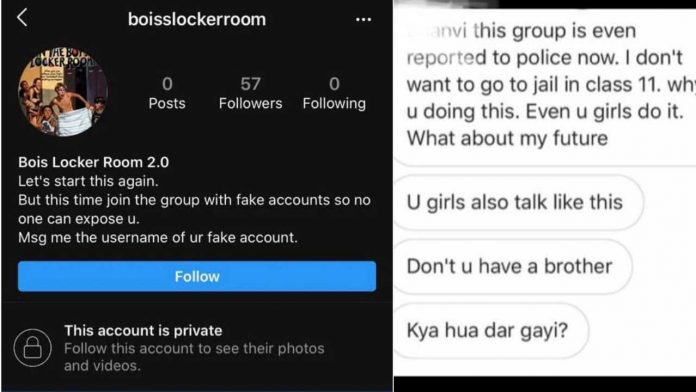 Delhi Police said that in the conversation with 'Siddharth,' the boy involved in the chat, took a screenshot and sent it to his friends and told about Siddharth's intentions.
Along with that, he also informed the girl that a boy named 'Siddharth' is planning his rape. But at that time, no one knew that Siddhartha himself was that girl.
Some of the boy's friends shared that screenshot as an Instagram story for a while. 
From here, screenshots began to be shared among his other friends and classmates.
When the screenshots of the boys' locker room were shared on social media, in the meantime, these screenshots also started being shared. 
According to the police, the screenshot of the gang rape conversation was very sensational, and due to being present in different student groups, it was shared and mixed.
DCP Aresh Roy said that both the people involved in Snapchat are not connected to the boys' locker room in any way. 
By the end of March, the boys' locker room was probably not even built.
Identification of 24 users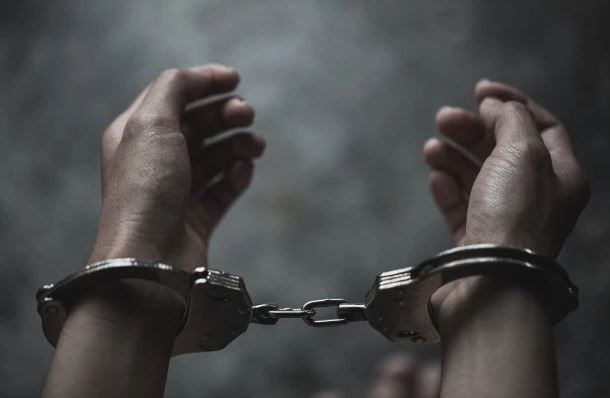 At the same time, 24 people involved in the boys' locker room group have been identified. 
They are being questioned. The remaining people are being searched. 
The group administrator of the boys' locker room has also been arrested.
In this case, the Special Cell of Delhi Police has registered an FIR under various sections of the IT Act and IPC.
In the press release issued by Delhi Police, it has been told that some information has been received about the three Instagram accounts. 
Further technical details are being gathered. The confiscated equipment during the investigation has been sent for forensic analysis.

Subscribe to Email Updates :