Are you on a low budget and want to buy a Boost Mobile Refurbished Phone so you can enjoy a high-end device at a lower price? If yes, then you have stumbled upon the right article.
As new smartphone prices grow, many people may consider buying a refurbished phone to save money. Refurbished devices are popular among Boost Mobile consumers, one of the largest prepaid cellular providers in the US.
Boost Mobile offers an affordable selection of high-quality refurbished Android and Apple phones.
As someone who just purchased a refurbished Apple iPhone XR a week ago from Boost Mobile, I must tell you that these phones are carefully tested and repaired by Boost Mobile as I have not faced a single malfunction, and my phone is working as well as a new device.
However, some of you may still have doubts, so let me share my experience purchasing a Boost Mobile refurbished phone and other relevant information.
So, without any further ado, let's get started.
What Does a Boost Mobile Refurbished Phone Mean?
A Boost Mobile refurbished phone is a pre-owned free government smartphone, or a purchased one returned to the manufacturer or carrier due to a manufacturing defect.
Boost Mobile then inspects and repairs or replaces these previously owned devices as necessary. Any defective components or parts are repaired or replaced to ensure the phone works properly.
The device is also meticulously cleaned on the interior and exterior. Once the phone has been completely reconditioned, it is subjected to rigorous performance and durability tests.
If it passes all tests, Boost Mobile certifies it as a refurbished phone.
These refurbished phones function as effectively as brand-new phones, with minimal scratches or defects. Like new phones, they continue to be eligible for warranty and support.
The good news is that these refurbished Boost Mobile phones are unlocked and can be used with any of the service providers of your choice.
Customers who purchase a Boost Mobile refurbished phone can save a significant amount of money compared to the price of an equivalent new phone model.
Does Boost Mobile have a BYOP Program?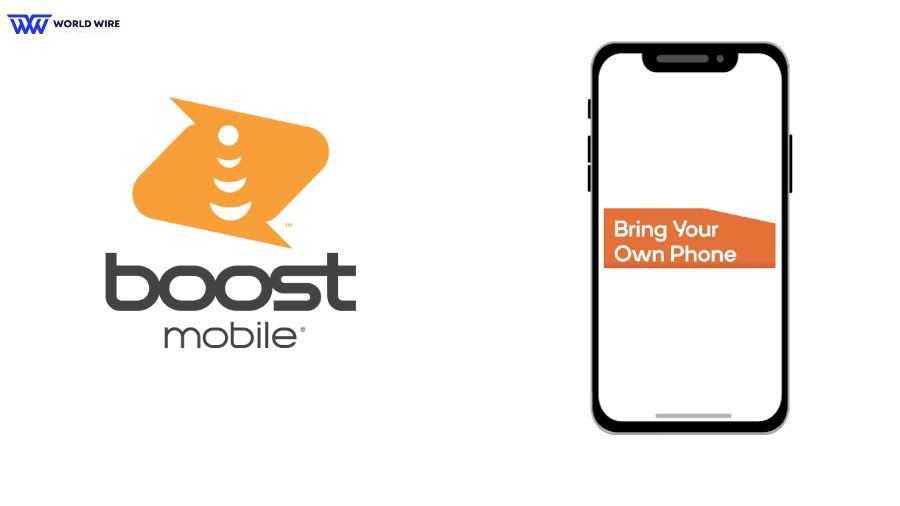 Yes, Boost Mobile offers a Bring Your Own Phone (BYOP) program that allows consumers to activate a Boost Mobile Compatible Phone on the Boost network.
With the BYOP option, consumers can continue to use their existing phone when switching to Boost Mobile's prepaid wireless plans or Boost Mobile ACP program.
However, the unlocked phone must be a GSM device compatible with Boost Mobile's network frequencies to be eligible. You can purchase and activate a SIM on the Boost Mobile network with your existing device.
BYOP involves a subsidy, and consumers can use their existing device to reduce the upfront cost of purchasing a new phone. The BYOP program provides a more cost-effective way to utilize Boost Mobile services.
Is Boost Mobile Refurbished Phone a Good Buy?
Many reasons exist to buy a Boost Mobile refurbished phone.
Refurbished phones are much cheaper than new ones as these used phones cost 30-50% less. Moreover, a refurbishment procedure ensures the phone is in like-new functional condition before being sold. Qualified technicians perform all repairs to resolve any problems.
Apple and Samsung's refurbished phones are available if you like using high-end smartphones through Boost Mobile's refurbished phones.
Additionally, refurbished phones undergo extensive testing and quality reviews. As with new phones, they come with a warranty to protect you against defects. If you purchased these phones with Boost Mobile insurance you can get an extended warranty.
They are more environmentally favourable and reduce electronic waste. Boost Mobile refurbished phones offer an excellent value for money, making them an excellent purchase.
Overall, buying a Boost Mobile refurbished phone is a good buy if you are on a tight budget but want to enjoy the latest features of a smartphone device.
Things to Know Before Buy Boost Mobile Refurbished Phone
Here are some basic tips to know before buying a Boost Mobile refurbished phone:
Check the retailer: Ensure you buy a refurbished phone from Boost Mobile or an authorized retailer. This ensures that the phone has been properly refurbished.
Examine the warranty terms: Carefully review the warranty coverage, including the covered issues and duration of coverage. It offers protection from defects.
Inspect the device thoroughly: When you receive the phone, inspect it for physical damage, such as cracks and scratches. Ensure that there are no design or functionality defects.
Confirm network compatibility: Only phones compatible with Boost Mobile's LTE network frequencies will function. Check the carrier's website for a list of acceptable refurbished phones.
Evaluate phone condition: Refurbished phones may have minimal wear and tear, but all essential components are replaced. Verify that the overall condition of the phone matches the description. Due diligence in these key areas helps ensure a safe purchase of a Boost Mobile refurbished phone that suits your requirements and budget.
List of the 10 best Boost Mobile Refurbished Phones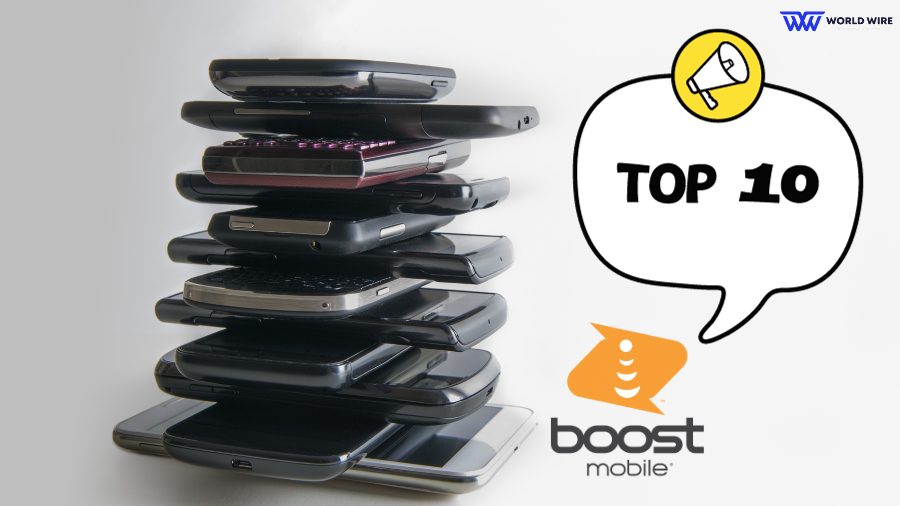 Here are the best 10 Boost Mobile Refurbished Phones:
Apple iPhone XR (64GB)
Released in 2018, the Apple iPhone XR features a 6.10-inch display powered by a hexa-core Apple A12 Bionic processor. It runs on iOS12 and supports 3GB RAM with 64GB storage, a 12 MP rear camera, and a 7 MP front camera.
After thoroughly testing and repairing worn-out components, refurbished iPhones look and work like new ones. Remeber, that you can also get an Apple iPhone XR for free by applying for a Boost Mobile free Governmnet phone.
Samsung Galaxy S9 (64GB)
Samsung's 2018 flagship features a quick Snapdragon 845 processor, a brilliant 5.8″ OLED display, a 12MP camera with variable aperture, and a premium curved glass-and-metal design.
Refurbished S9s are meticulously inspected and professionally restored with a new battery, a replacement screen, and any exterior scratches or blemishes repaired.
Motorola Moto G7 (32GB)
This Boost Mobile refurbished phone has a 6.2-inch display, a Snapdragon 632 processor, dual rear cameras, and a polymer casing with a curved glass screen.
Batteries, screens, and housing components of refurbished phones are repaired or replaced if they are in poor shape, restoring the items to an almost brand-new state.
Google Pixel 3 XL (64GB)
Google's 2018 flagship Pixel phone has a larger 6.3″ OLED display, Snapdragon 845 processor, 12MP rear camera, and direct Android updates.
Boost Mobile replaces the worn-out batteries, screens, and other components of these bigger 2018 OLED Pixels to give them a second life as refurbished products.
Apple iPhone 8 (64GB)
The 4.7-inch iPhone has Touch ID, wireless charging, the A11 Bionic chipset, and a 12-megapixel camera. Boost Mobile replaces aging batteries, displays, and housings to make outdated iPhones seem new.
Samsung Galaxy S8 (64GB)
Internal components are replaced as part of Boost Mobile's meticulous refurbishment of these stunning 2017 curved glass flagships, restoring them to pristine condition.
The flagship features curved glass, a fast Exynos CPU, a stunning 5.8-inch display, a 12-megapixel camera with OIS, and wireless charging.
Motorola Moto G Power (2020)
An affordable smartphone featuring a 6.6″ display, Snapdragon 662 CPU, triple camera array, and 5,000 mAh battery. Phones are refurbished with new batteries, screens, and housings to look and work like new ones.
Google Pixel 4 (64GB)
Google's premier Pixel for 2019 features a 5.7-inch OLED display, Snapdragon 855 processor, dual rear cameras, and a 90Hz display. Boost Mobile's refurbishing process rebuilds these 90Hz Pixels by inspecting them in great detail and replacing any components that are worn out.
Apple iPhone 7 (32GB)
Apple's emblematic iPhone 2016 features a 4.7-inch display, A10 processor, 12-megapixel camera, and traditional home button design. By replacing worn-out components, Boost Mobile restores these iconic iPhones to ensure they function and appear faultless.
Samsung Galaxy A12 (64GB)
A reasonably priced 2021 Samsung smartphone with a 6.5″ LCD, a MediaTek Helio P35 processor, a quad camera array, and a 5,000 mAh battery.
They are returned to an impeccable and fully functioning state after undergoing a comprehensive refurbishment, during which any broken components are either repaired or replaced.
FAQs
Are boost refurbished phones locked?
Boost Mobile refurbished phone aren't restricted to any particular carrier's network. They may be used with the SIM card of any carrier that offers service on GSM networks, including Boost Mobile, AT&T, and T-Mobile. They are also sold at a discounted price.
What are the disadvantages of refurbished phones?
Compared to new phones, reconditioned phones may have scratches or dents, which the naked eye cannot see. Moreover, certain components may be defective because they were salvaged and reused.
These devices also have lesser warranty than a new device; it's usually 6 months for the refurbished ones.
What is done to refurbished phones?
Before being resold, Boost Mobile refurbished phones undergo a series of steps, including inspection and testing, repair or replacement of broken parts, extensive cleaning, and full restoration of functionality.
How long do refurbished phones last?
A refurbished phone that has been completely reconditioned by replacing worn parts can last two to three years with typical use, the same as a new phone from the same time. A refurbished phone survives as long as it is properly reconditioned.
What is the disadvantage of buying refurbished?
The primary disadvantage is the lack of a manufacturer warranty and the inability to determine the phone's complete maintenance and usage history, unlike a brand-new phone that has never been used before. There may also be confusion regarding the grade of renovation.
Are refurbished phones a security risk?
Before being resold, refurbished phones undergo data deletion processes to ensure that all previous users' personal information has been completely removed. As long as appropriate security procedures are strictly adhered to, there is no greater security danger than with a brand-new phone.
Wrapping Up
Boost Mobile refurbished phone are a cost-effective method for consumers to acquire high-quality, pre-owned smartphones without paying full retail price.
Even though refurbished phones may have minor flaws, they are rigorously tested and reconditioned to ensure like-new performance. Purchasing from reputable retailers with transparent return policies further reduces risk.
Boost Mobile's selection of refurbished devices has a fantastic option to meet your requirements, regardless of your budget. Buying a refurbished phone from Boost Mobile is undoubtedly a wise decision.
Signup For Our Newsletter