Former President Donald Trump has asked for a full apology from one of the most popular Forbes Magazine.
Here are the details of the news.
Donald Trump Demands Apology from Forbes, Alleging False Reporting
On Tuesday, the United States former president Donald Trump and the 2024 Republican Presidential candidate demanded an apology from Forbes, claiming that the magazine has published fake articles about him.
Trump wrote on his Truth Social platform, "I hereby demand a full apology from the failing Forbes Magazine, and their third-rate psycho writer, Dan Alexander, for the many false and libelous articles they have written about me, and for the cooperation they have given to the Racist and Incompetent A.G. of New York State, Peekaboo James."
Also, read "Judge Denies Trump's Request to Delay NY Fraud Trial"
The former President's criticism of Forbes came after the magazine removed him for the second time in three years from its list of the 400 wealthiest people in the United States.
Trump, a 2024 GOP front-runner, wrote, "For years, Forbes has attacked me with really dumb writers assigned to hit me hard, and I am now up 60 Points on the Republicans and beating Crooked Joe by a lot. So much for Forbes."
Although Forbes is owned by a Hong Kong-based investment company, Integrated Whale Media Investment, Trump has argued that the Communist Chinese Government owns Forbes, and "China will do anything to stop MAGA. Forbes, a Globalist 'Rag,' is a propaganda play against TRUMP."
Also, read  "Trump Boasts About Classified Document in Leaked Recording."
Dan Alexander, who Trump has blamed for writing fake articles, is a senior editor at Forbes and an author who wrote a book on Trump, 'White House Inc: How Donald Trump Turned the Presidency Into a Business.'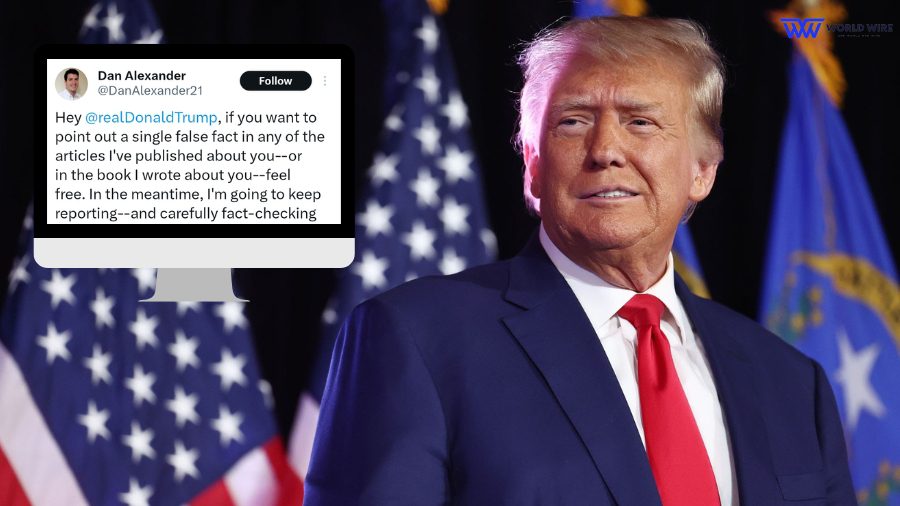 He responded with a Tweet on Wednesday stating, "Hey Donald Trump, if you want to point out a single false fact in any of the articles I've published about you or in the book I wrote about you, feel free. In the meantime, I'm going to keep reporting and carefully fact-checking every word I publish."
In September, Alexander wrote in an article about Trump's finances, "New York state is suing Donald Trump and his business for engaging in financial fraud.
Also, read "George Conway Slams Mike Pence's Attack on Donald Trump"
Forbes has documents and a recording of Trump talking about 40 Wall Street, the first property cited in the attorney general's press conference, that seem to back up her claims."
It added, "Two Forbes journalists received subpoenas last year from the Manhattan district attorney and had to testify before a grand jury to confirm information in two articles detailing Trump's shenanigans.
Forbes, however, has records that prosecutors do not, including notes from interviews over the years and a 2015 audio recording that places Trump smack in the center of the alleged deceit."
Besides Forbes, through his post, Trump vented his frustration against New York Attorney General Letitia James, who has sued him in a civil fraud case in New York, alleging that the former President has manipulated the value of properties and companies to demonstrate profit.
Also, read "Trump Organization Faces Fallout After Fraud Conviction"
The former President has accused Forbes of cooperating with his ongoing fraud trial. He has called A.G. Letitia James as "racist and incompetent" and has included him in his post by a special name called " Peekaboo."
Despite his legal troubles, the former President has maintained a lead for the 2024 Republican Presidential nomination among all the candidates.
As such, Trump's indictments do not seem to affect his presidential race. But Trump appears to strongly oppose what he says, false detailing about his properties or cases in any form in the news reporting.

Subscribe to Email Updates :