Kari Lake is the latest Republican to declare that drag shows are harmful to children. Says Drag Queens a Danger to Kids.
Kari Lake Says Drag Queens a Danger to Kids
One of Phoenix's most well-known drag queens recently publicly chastised Kari Lake for participating in the drag scene and allowing her kid to do so. Rick Stevens, better known in Phoenix's queer community as famous drag queen Barbra Seville, posted all of the receipts on Friday night on Twitter and Facebook. Also, posting images of himself and Lake together, reportedly at drag events, before claiming Lake "went to the right." Trump said that Lake would battle to remove "Woke" teachings in schools.
Lake, recently commended by former President Donald Trump as someone who will battle to remove "woke" teaching in schools, recently took to social media to weigh in on the conservative campaign to keep children away from drag events. On Friday, Lake posted on Instagram and Twitter, "They kicked God out of classrooms and welcomed the Drag Queens." "Our flag was taken down and replaced with a rainbow. They want to militarise our adversaries and disarm Americans. Let's get back to the basics with God, Guns, and Glory." But, according to Rick Stevens, this is a long cry from the Lake he's known since her Fox10 days in the 1990s when he claimed she frequented a bar where he performed.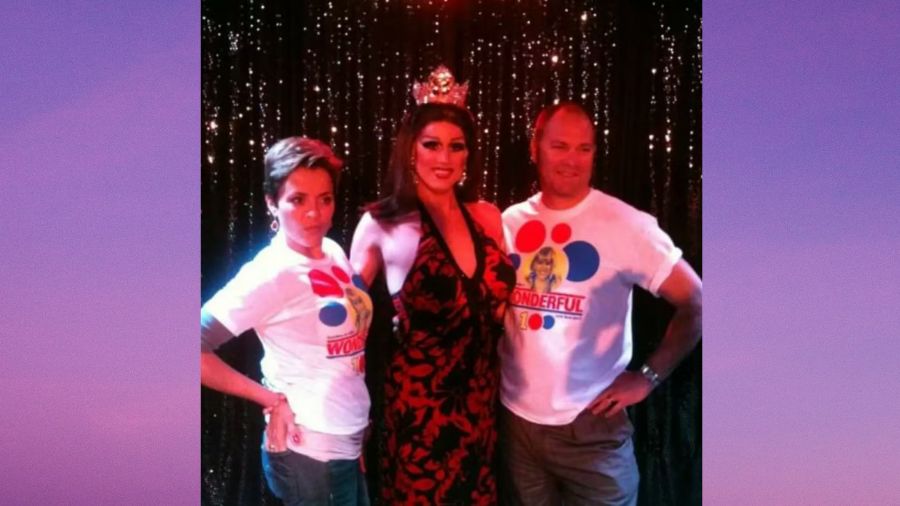 "She hangs out with drag queens," Steves revealed
Drag Queen attended Lake's birthday, in her home (with small children in attendance), and in "some of the seediest bars in Phoenix," according to Stevens. Elvis Presley and Kari Lake clicked pictures with drag queen Barbra Seville. Stevens claimed Lake's statements were unexpected in an interview with Arizona Central. He also mentioned that she once allowed her little daughter to see Seville perform. "She hangs out with drag queens," he revealed.
Also Read: Kari Lake and Drag Queen controversy explained
"She gave birth to her baby in front of a drag queen." I've done drag for her friends and family in her home. They do not pose a threat to her. She was a regular attendee at concerts. It was too much to make me the scapegoat for political benefit." Stevens wrote, "Kari was a friend of mine, and I stood by her when she turned to the right." In screenshots of private communications Stevens uploaded dating back to 2012, Lake appeared to support the LGBTQ+ community.
Stevens told Arizona Central that he believes Lake has betrayed him and is a hypocrite
The Republican candidate's campaign, on the other hand, was eager to refute Stevens' assertions. In a statement, Lake's campaign said, "Richard's claims were full of lies." "The performance in question was at a party at someone else's home, and the performer was dressed as Marilyn Monroe. It wasn't a drag show, and the problem we're discussing isn't grownups going to drag shows. Activists are sexualizing young children, and this has to stop." Above all, Stevens told Arizona Central that he believes Lake has betrayed him and is a hypocrite. "I'm pleased to do all I can to expose the hypocrisy and to keep someone like that, who is only a few votes away from power, out of power," he said.
What more does Stevens expose about Kate?

Stevens claimed in a text exchange, "I spoke up because her frightening climb to power under these new 'ideas' is frightening and could result in genuine harm to other marginalized people and me," Stevens added. After Lake plunged into the latest conservative target of outrage: children being exposed to drag queens, he spoke out. He also supplied a screenshot of a tweet Lake sent a few hours before. "God was booted out of school, and the Drag Queens were welcomed in." She wrote, "They took down our flag and replaced it with a rainbow."
"They want to militarise our adversaries and disarm Americans. Let's get back to the basics with God, Guns, and Glory." Lake's campaign also condemned drag queens in a tweet on June 4. The account retweeted a video of a drag queen performing in front of children in Texas, along with the caption: "This is what grooming is all about. This is child maltreatment. Maybe in Dallas, Texas, that's acceptable. In a KariLake-led Arizona, however, it will not be permitted."
About Kari Lake
Kari Ann Lake is a former television news journalist and politician in the United States. She left her anchor position at Phoenix television station KSAZ-TV in March 2021 after 22 years of service. Lake is a Republican candidate for governor of Arizona in 2022. Further, during her campaign, she made misleading assertions about the 2020 presidential election, claiming that Trump would be only the second Republican to lose Arizona since 1948. She has called for Arizona Secretary of State Katie Hobbs to be imprisoned based on unfounded and undisclosed criminal claims relating to the 2020 election. Former President Donald Trump, Arizona Representative Paul Gosar, former Trump defense secretary Michael Flynn, and MyPillow CEO Mike Lindell have endorsed Lake.

Subscribe to Email Updates :