As the GOP presidential primary race takes multiple twists and turns, former South Carolina Governor Ron DeSantis seems to be leading Florida Governor, per polling data.
Here are the details of the news.
Nikki Haley is on the Brink of Croaking DeSantis
Former South Carolina Governor and 2024 Republican Presidential candidate Nikki Haley is performing well with her rising poll numbers for the upcoming GOP primary race in the key states.
As Republican candidates are struggling to reach second place in poll numbers behind former President Donald Trump, according to some polls of the early voting states, Nikki Haley is leading against the second-leading candidate, Florida Governor Ron DeSantis.
She has a significant lead over DeSantis in New Hampshire and her own South Carolina state, where she is ahead by a high margin of 18.8 percent to DeSantis's 10.5 percent points.
Haley's lead in her state may also be because she is the only South Carolinian candidate in the presidential race after state senator Tim Scott recently ended his bid.
Granite State's new survey has revealed that Haley is second with 18 percentage points while DeSantis is fourth, slightly behind former New Jersey Governor Chris Christie.
Another poll shows Haley at 17 percentage points, DeSantis at nearly half, 8.3 percentage points, and Christie at third.
DeSantis is ahead of Haley in Iowa, one of the most important battleground states defining candidates' capability to win the White House.
However, if Haley continues to increase her polling numbers, assuming she could soon overcome DeSantis for second place in Iowa would not be wrong.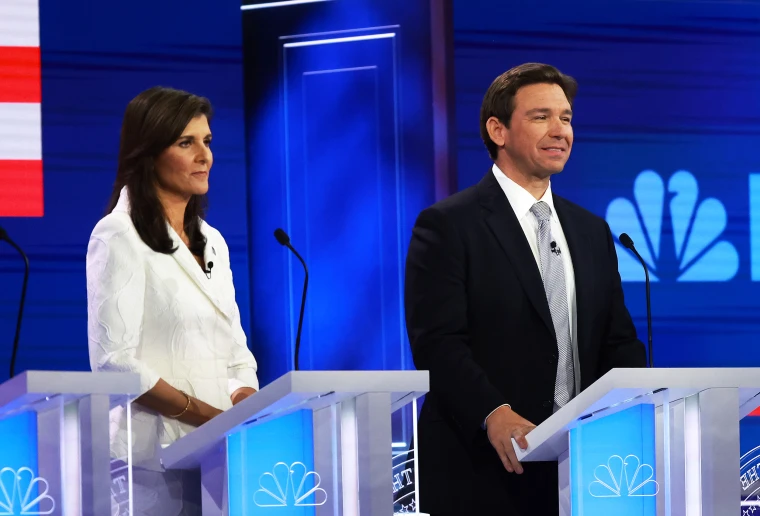 Earlier, DeSantis was a major rival to Haley for second place. As the primary approaches, however, the situation appears to have changed, with Haley now posing a serious challenge to the Florida governor and making him struggle to maintain his second-place polling rank.
DeSantis was considered a major rival to Trump for the first place when he entered the GOP presidential field in May. Although he began with a reasonable margin, his popularity has declined in recent months.
Most probably, the Florida Governor faces a dual challenge to overcome or at least reach near Trump, who is leading in polls in almost all early-voting states.
Second, to maintain his second position as the GOP candidate against Haley, who has gained momentum, doubling her voters' support in the past few weeks.
The former Governor has a high chance of crossing DeSantis's polling digits even in Iowa, a first-in-the-nation caucus state.
In conclusion, DeSantis, who is running for the U.S. President amid financial constraints, has become less popular among Republican voters despite spending huge amounts on his campaign.
He appears to be losing poll numbers in key states for the GOP primary. Haley, initially unrecognized, is gaining fame and increasing voter support.
Nonetheless, no candidate has shown enough popularity to overcome the former President, who has been leading the GOP field for the nomination since he announced his bid.
Trump is facing four criminal cases, but he is still the most preferred candidate amongst the Republican and Democrat party.
Signup For Our Newsletter