Despite the former president's call for protests, there hasn't been much activity on the streets near the Manhattan courthouse since his indictment.
On Monday afternoon, only one lone protester was seen standing outside Manhattan's courthouse. Not many were present for the anticipated Former President Donald Trump's previously scheduled arraignment on Tuesday.
The area outside the 100 Centre Street courthouse was crowded with reporters, and they started lining up around 2.45 PM to get a seat in the courtroom. But none of Trump's supporters were present.
Only one person wearing a red MAGA hoodie and mask with V for Vendetta stood in a park beside where reporters were gathered. Later four more protesters joined, carrying an American flag with a pro-Trump banner. One woman warned Americans not to become "Communist serfs."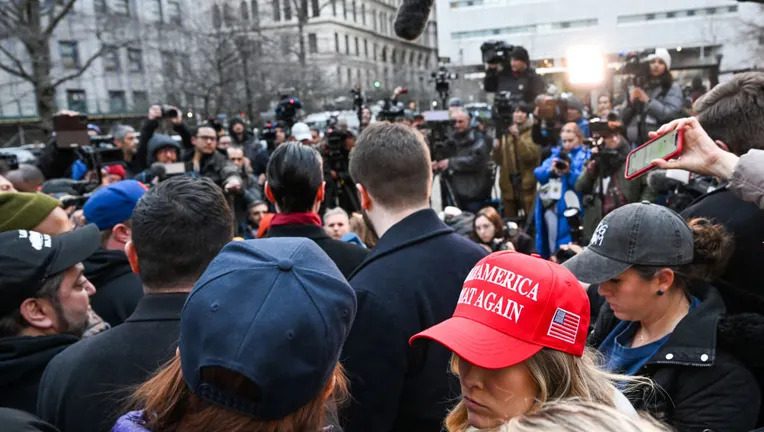 Trump has called for protests and threatened "death and destruction" if he is prosecuted. Still, the area outside the building where he will be fingerprinted and photographed has mainly been barren of the crowds that the former president usually draws. Even still, his supporters in the city continue to make news: Just last week, a protester outside the courthouse was jailed after pointing a knife at a couple with two young kids.
The city is preparing for additional instances of similar issues like Trump supporters' previous attack on the Capitol. The Law enforcement authorities have issued warnings about increased violent threats in the weeks preceding the indictment. Mayor of New York City Eric Adams has increased security at popular locations throughout the city, including the courthouse, and has warned protesters to "behave."
On Monday, Adams warned potential protesters that they would be arrested and held accountable if they were found engaging themselves in any acts of violence. He claimed not to spare anyone, regardless of their identity and status.
Georgia Representative Marjorie Taylor Greene will protest against the former president's indictment in New York City's Collect Pond Park on Tuesday, just hours before former President Donald Trump intends to turn himself into the Manhattan District Attorney. The small area was once a drinking water pond but eventually turned into a filthy, stinky open sewer and the heart of a gang-filled slum where mobsters like Lucky Luciano and Al Capone first rose to prominence.
Rep. Marjorie Taylor Greene (R-Ga.), who is expected to organize a protest outside the courtroom, was called out by the mayor. Eric Adams advised, "Be on your best behavior while you are in town."
The lack of protesters near the Civic Center doesn't imply they weren't present in the city. Trump supporters gathered on 5th Avenue outside of Trump Tower to welcome him as he arrived in NY city to surrender himself to authorities.
As Trump entered the building, he waved to his supporters. It is expected that they will likely be present to welcome Trump into court tomorrow if their presence is connected to his movement.

Subscribe to Email Updates :