Republican 2024 Presidential hopeful is backing former President Donald Trump's nomination for the new United States House Speaker.
Here are the details of the news.
Vivek Ramaswamy Backs Donald Trump for House Speaker Role
The U.S. Biotech entrepreneur and GOP presidential candidate Vivek Ramaswamy has indicated his endorsement of former President Donald Trump as the successive Speaker of the United States House.
On Wednesday, Ramaswamy said he backs some Republicans who look to nominate Trump for the Speaker's vacant post. He posted on X, "This isn't crazy. We need to shake things up there."
Besides Ramaswamy, Troy Nehls (Representative of Texas), Greg Steube ( Representative of Florida), and Marjorie Taylor Greene (Representative of Georgia) support Trump's nomination to be the next House speaker.
Also, read, "Is Vivek Ramaswamy offering a $100,000+ salary for a nanny?"
Although Republicans wish to see the former President as the House Speaker, Trump has noted that he is not interested in taking the role of House Speaker and instead wants to focus on his 2024 presidential campaign and upcoming GOP primaries.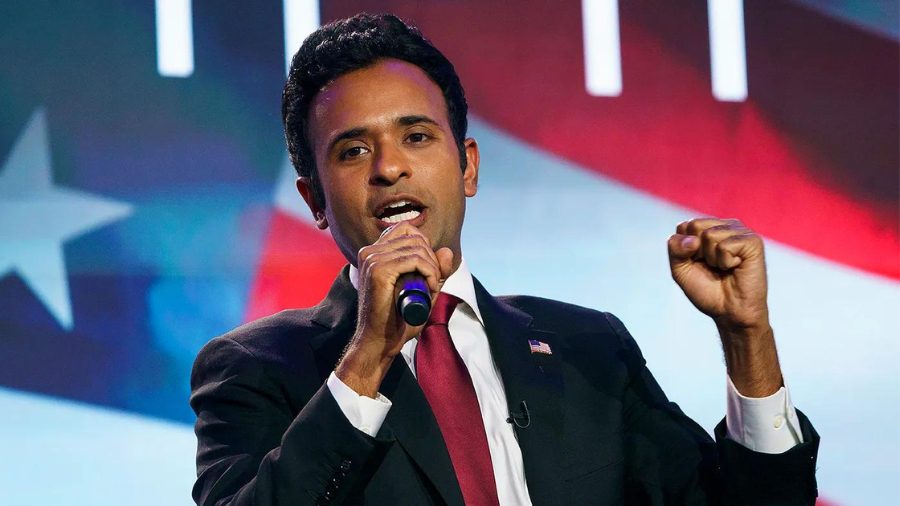 Trump said at a Manhattan courthouse, "Lot of people have been calling me about the Speaker. All I can say is we'll do whatever is best for the country and for the Republican Party. My focus is totally on that. If I can help them during the process, I'll do it. But we have some great people in the Republican Party that could do a great job as Speaker."
Additionally, Trump may not be eligible for the Speaker role because he faces many felony charges in multiple cases as per GOP conference rule.
Also, read "Donald Trump's Controversial Defense Strategy in NY Fraud Trial"
Rule 26 of the House Republican Conference Rules states that "a member of the Republican Leadership shall step aside if indicted for a felony for which a sentence of two or more years imprisonment may be imposed." However, House Republicans can change the rule by voting.
The U.S. House voted on Tuesday to remove Republican California Representative Kevin McCarthy from his position as House speaker.
Also, read "John Kelly corroborates disturbing stories about Trump"
Ramaswamy had supported those few Republican conservatives who attempted to remove McCarthy as House speaker. In his video message released after the vote to unseat the Speaker, the Presidential hopeful has suggested chaos is sometimes a good thing.
Ramaswamy had said, "The point of removing the House Speaker was to sow chaos. That's what the critics of Matt Gaetz and everybody else is saying. And my advice to the people who voted to remove him is to own it."
Also, read "Vivek Ramaswamy's campaign asks RNC to change third debate rules"
He continued, " Admit it. There was no better plan of action of who's going to fill that Speaker role. So, was the point to sow chaos? Yes, it was. But the real question to ask, to get to the bottom of it, is whether chaos is really such a bad thing?"
Ramaswamy polls third behind Florida governor Ron DeSantis and Trump in most polling, while in some, the emerging politician is also seen ranking second behind the former President for the GOP 2024 nomination.
Signup For Our Newsletter